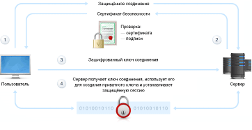 Defense of your website from 8,8$ per year
Guarantee the security of financial transactions
Visual authentication your website
It allows to exclude the possibility of interception of confidential data
Certificates for any purposes - от защиты сайта до домена организации
Choose your level of security
Certification center
Comodo Group – one of the leading software vendors for defense information in internet.
Along with other software solutions, Comodo produces a wide range of digital security certificates site SSL.
This certificate center offer the wide range of production for private use, for small and medium businesses, as well as for large enterprises.

RapidSSL offer cheap SSL certificates primary level of 256 bit encrypting, which provide reliable defense to internal net, small sites and other little internet projects.
RapidSSL – the great choice for people who find SSL sertificate with good value for money.

GeoTrust is one of leading companies in in the field of information security which correspond the most important safety requirements of electronical commerce.
GeoTrust is the second largest provider of digital certificates in the world. More than 100,000 customers in more than 150 countries use SSL Certificates GeoTrust, thereby effectively protecting inexpensively their clients and resources from malicious attacks.

Thawte – the world sertificate center, offering SSL sertificates of different security level.
The company was based in 1995 year in South Africa and was the first certification center giving SSL sertificates to выдающим SSL сертификаты legal entities registered outside the USA and soon took 40% of global market.
At 2000 year Thawte was bought by company VeriSign (now Symantec) and became a key member of the corporation in the field of certification.
Nowadays Thawte had given more than 950 thousands SSL sertificates and certificates for software developers thereby providing protection and authentication of transactions in more than 240 countries.

VeriSign – the first in the world company which begun to sell digital certificates SSL.
It was based in 1995 year and developed rapidly, offering differrent solutions in network infrastructure and network security.
In 2010 year, an authentication unit of company VeriSign with SSL, PKI and print protection VeriSign Trust Seal, was bought by company Symantec, which is the world leader in security, storage and systems management solutions.
Before Verisign sold sertification part of company Symantec in action was already over 3 million certificates applying in different areas: military, phinancial services and marketing. Thus VeriSign bacame the most certification center.

FAQ
SSL (Secure Sockets Layer) is protocol encrypting information between client and server and it secures data transmission.

SSL sertificate allows to use SSL encryption on your website for security information.

Sertificates can be applyed for any website which uses private information, accounts of credit cards or confidential reports.

SSL sertificate is programm installed on a webserver.

The programm consist of two parts. The first part is a key that encrypts data, the second part is a private key that decrypts data.

Unique session is created using this two keys when client launches a browser and connect to the server with SSL sertificate.

All transfering data in this session is secured and it can't be decrypted by anyone other than the specific client and server.

If you use your site sent or received important information, customers are entitled to expect that the protection of their information will be provided via SSL-certificate.

Visitors can leave your site if they see that it is not protected.

Yes, you can. The domain that you want to certify, does not have to be registered to you or our company.

Yes, we do. All our sertificates are checked by Certificate authority (CA).

Certificate authority is departament that confirm SSL setificates.

Domain validation certificate confirms that the certificate belongs to the owner or administrator of domain name. It is the low level of sertification with the cheapest prices.

Certificate for companies is applyed for checking the connection between the domain, owner a domain and company that uses a certificate.

Extended Validation Certificates are used for better verification of the buyer and their authority to purchase a certificate on behalf of the company.

After installing the certificate extended review appears in the browser address bar green - a visual indicator of the reliability of the site.

Domain Validation certificates provide encryption only compound while the highest category certificates didn't only encrypt connection but also provide your customers confidence in the legitimacy of your business.

Green bar line is confirmation of the legality of your business.

It will appear only you have ordered advanceв support certificate.

It has built-in protection from fraudulent websites that are designated in the address bar red.

Studies show that businesses using Extended Validation certificates are very popular in the market.

All certifications have the same level of encryption functionally.

!! But for advanced clients title of company in the certificate have the effect like brand of designer clothes. It shows clients the status of your company.

In order to determine which certificate you are using the client just click on the lock icon in a browser.

It will be opened a new window with information about your certificate.

SSL certificates are compatible with all popular browsers.

Certificate installing isn't difficult but it is associated with a process that is different for each server.

Certification Center has published instructions for generating a certificate signing request (CSR) and install it.

Digital Signature Certificate (CSR) - a key that is generated by the web server and then sent to the certification center to create the final certificate.